The role of the public sector is in connection with the procurement of innovations important, in order to be able to participate early and actively in introduction processes. Therefore, the Automated Mobility Action Package (2019-2022) already stated how a public-private partnership can support FTI instruments with new procurement instruments (innovation partnerships, other instruments of innovation-promoting public procurement) as well as European funding perspectives. For the implementation of measure 4.4 defined here, AustriaTech, in cooperation with the Federal Ministry for Climate Action, the GSV and the IOeB, surveyed the status quo and identified potentials and possibilities for action by means of stakeholder workshops. The results have now been summarised in the brochure "Automated Mobility & Public Procurement Promoting Innovation (IÖB)".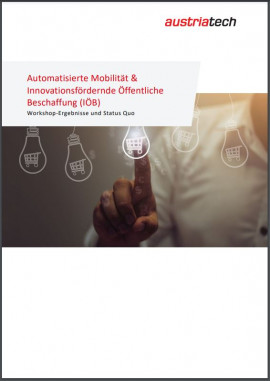 The IOeB supports public clients in innovation-promoting public procurement (PPPI) and thus helps in the purchase of innovations. With the advancing automation in mobility, it is not only municipalities that benefit from the acquisition of public space and the more efficient handling of traffic, but also mobility users and residents of cities.
Building competence now
The aim of the measure was to demonstrate the added value of looking at the areas of automated mobility and innovation-promoting public procurement together. By involving various stakeholders, the aim was to identify whether there are currently innovative procurement projects in the field of automated mobility and what concrete support they would already need today. For this, the necessary competences must already be built up and resources secured. By supporting the public sector to bring forth new products and thus ensure progress, it also takes on a role model function. It is also essential to involve the various actors in these processes. Procurement departments of cities and states, planning departments, infrastructure operators and owners as well as providers of mobility services must be addressed in the procurement of automated mobility solutions.
Keeping the big picture and creating framework conditions
In this context, two stakeholder workshops with around 70 participants were held in 2021 to implement measure 4.4, in order to find out the needs from the stakeholders' point of view that should be covered within the framework of an implementation of automated mobility services. The next step was to identify elements in the area of automated mobility that can already be procured by the public sector today and in the next five years. It was interesting that similar needs could be identified in the different case studies that were discussed.
Among others, cooperative systems play an enormously important role when it comes to implementing automated mobility solutions. After all, automated driving can only be made possible if it is ensured that the infrastructure is equipped accordingly. Therefore, this aspect must be considered and planned from the very beginning of the procurement process. Another point is the need to provide space for certain services. These could be mobility hubs or public areas for automated parking or charging. In addition, the reduction of parking spaces in public spaces was intensively discussed as a further effect of automated mobility. In combination with offers such as sharing or public transport, this must then be incorporated into correspondingly holistically planned mobility concepts.
In order to be able to integrate automated mobility solutions into our mobility system, various framework conditions and processes still need to be adapted. In addition to adapting the "Kraftfahrgesetz (KFG)" and the "Straßenverkehrsordnung (StVO)", it will also be necessary to create awareness for these new developments among the population and users. Ethical issues must also be clarified and aspects such as possible restrictions on use or cost issues must be discussed.
Research and development play an extremely significant role in the feasibility of integrated automated mobility. In order for cities and municipalities to be able to benefit from the advantages of automation in the future, such as increased traffic safety, less environmental pollution, more efficient traffic handling or the reclamation of public space, they must invest in innovative mobility solutions in public procurements. In its role as a contact point for automated mobility and as a competence center for mobility transformation, AustriaTech supports the exchange of information and joint learning at both national and international level and will further expand its efforts in this field in the future.
Further details and which aspects and suggestions were specifically elaborated and discussed in the three use cases in the field of passenger mobility services, freight transport and automated work machines during the stakeholder workshops can be found in our brochure.