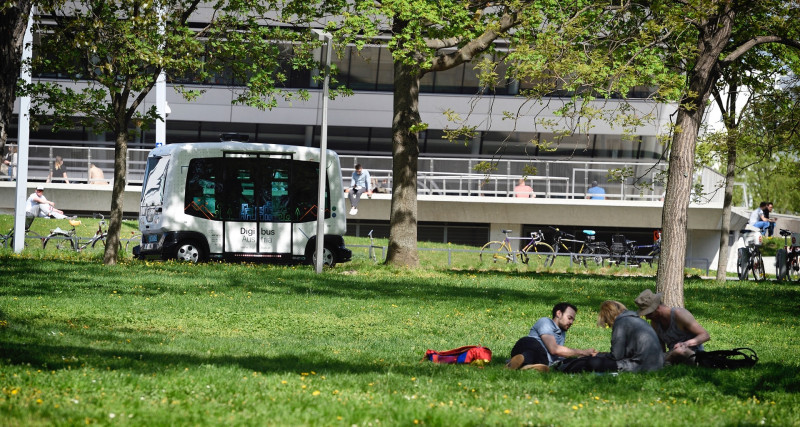 Especially in the rural regions of Austria, it happens that the connection between one's own front door and the nearest public transport is not the best. For people with limited mobility, it is therefore often difficult to reach the nearest bus or train station and they lose a bit of their independence.
The municipality of Koppl near Salzburg is therefore testing the use of automated shuttles. In the "Digibus Austria" project, the operation of automated shuttles on public roads is being tested in compliance with strict safety regulations. In a so-called "last mile scenario", the "Digibus" connects the village with the B158 highway, 1.4 km away, and the bus stop of line 150. The bus stop is thus at least 200 metres closer to the residential address of potential passengers.
Sustainability and comfort in one
Other applications are concerned with optimising the flow of traffic and increasing sustainable transport. Many motorists are familiar with this phenomenon: "Traffic jams out of the blue." A traffic jam occurs even though no visible blockade event such as an accident or a construction site can be observed. Excessive speed differences in convoy traffic or the lack of safety distances are the reason why individual drivers have to brake too abruptly. A chain reaction occurs and a traffic jam arises out of nowhere.
Motorway pilots - assistance systems that maintain lane, distance and speed - could remedy this problem. If the vehicles are additionally networked with each other and the infrastructure, anticipatory driving can be supported more effectively. The traffic control centers can, for example, adapt the speed limit to the respective situations and warn of impending dangerous situations. The resulting more efficient traffic flow protects the environment and the stresslevel of drivers.
The possibilities are manifold. Despite all the creativity and economic incentives, our experts focus on two factors: Firstly, safety is a prerequisite for operation in all tests and applications. And secondly, automated mobility shall not be fostered at any price if the prior goals such as sustainability, efficiency and regaining space in the cities cannot be achieved.
Are you more interested in automated mobility? Then register now for the Citizen's Debate on Automated Mobility on 6 April 2019 in Vienna, Salzburg, Pörtschach, Linz and Graz.