Safety through communication
Cooperative systems can help to improve safety and comfort on the road. This is achieved in particular through the direct and precise exchange of information between vehicles and the respective traffic infrastructure. "Coorperative Intelligent Transport Systems" (C-ITS) focus in particular on the exchange of safety-relevant information. The technologies used for this purpose essentially comprise wireless communication in the high-frequency range and are standardised within the framework of the so-called ITS-G5 standard. In this way, C-ITS enables vehicles and roads to communicate with each other.
Applications on the high-level road network
The Japanese delegation travelled across Europe to get new impressions and inspiration. From the ITS European Congress in Toulouse via Frankfurt and Brno to Vienna. Together with the Austrian partners - the Ministry of Climate Action, ASFINAG, Kapsch, the City of Vienna, as well as Wiener Linien, Yunex Traffic Austria GmbH and AustriaTech - the delegation from Japan experienced a day that offered them insights into new technologies and ideas. ASFINAG's national traffic management centre in Inzersdorf was the first stop. The delegation was able to take a direct look at current areas of application - such as the intelligent construction site trailer. In contrast to conventional trailers, it does not have to be controlled on site, but can be remotely controlled from a central point. However, the focus was not only on the perspective of public services but also on private vehicles. In parallel to the C-ITS installations on the intelligent construction site trailer, the Japanese delegation was able to experience first-hand direct communication with the vehicles involved. During a test drive on the ASFINAG site, the real-time display of the traffic situation could be demonstrated.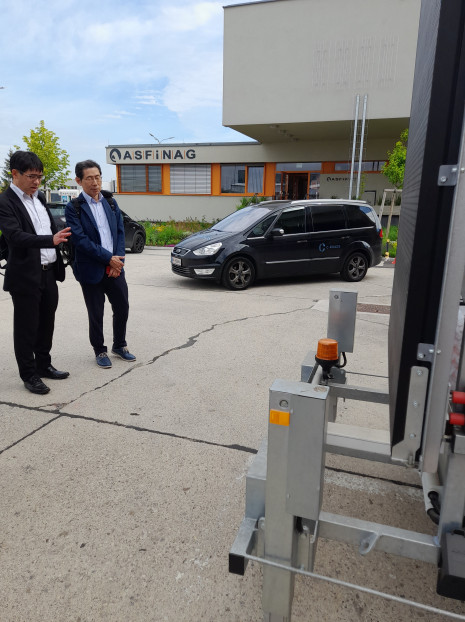 First drive along the Vienna Ring Road
The potential of C-ITS is not limited to motorways. It can also help to ensure higher safety levels and a more efficient flow of traffic in local public transport. In cooperation with Wiener Linien, the delegation from Japan could take part in a test ride on the Tramway along the Ring Road in the centre of Vienna. More than 20 traffic lights on Vienna's Ring Road were already equipped with C-ITS in advance. The communication between the traffic lights equipped with C-ITS and the Tramway ensured that the Tram could stay in its traffic flow. In addition, it is also possible to react quickly to any disruptions or emergencies by adjusting traffic light circuits.
The use of C-ITS in urban areas showed the delegates from Japan the range of possibilities and opportunities that come with it. C-ITS has also brought about innovations on a social and political level. With all European countries agreeing on a harmonised implementation of C-ITS across Europe, it can be used uniformly across national borders.