How would you describe automated mobility? Future, security, opportunity, freedom or scepticism are just a few of the key words that have been mentioned in the dialogues in Austria. These took place on 6 April in Vienna, Salzburg, Pörtschach, Linz and Graz. Particularly important to the participants with regard to the introduction of automated mobility were the topics of security, environment and data protection. Almost 50% considered security to be the most important issue in the context of automated mobility.

Wishes and expectations for the future
During the events different development scenarios of the mobility system were presented to the participants:
the existing system is improved, but automated mobility is dispensed with
the focus is on private, automated passenger cars
in the carpooling model, fleet operators offer robot taxis and automated shuttles
public transport will be automated, complemented and form the strong backbone of the mobility system
The participants had the opportunity to comment on which of the four scenarios would be their preferred one for the future development of the mobility system. The results point in one direction: 96% find the public transport model very desirable or desirable. The carpooling model is also very well received. A large part of the respondents can imagine a combination of these scenarios: comprehensive expansion of public transport and carpooling for the opening up of remote areas. This combination would have the most positive effects on traffic volume - congestion could be reduced or even avoided - and on space savings. In addition, this development would strongly promote sustainability, which is also of great concern to the respondents. What is striking, however, is that the scenario with private, automated cars in the centre is even rejected by the majority. In principle, the panellists repeatedly emphasised that the development and optimisation of cycle paths and footpaths should not be ignored and that citizens should be encouraged to sensitise their own mobility behaviour.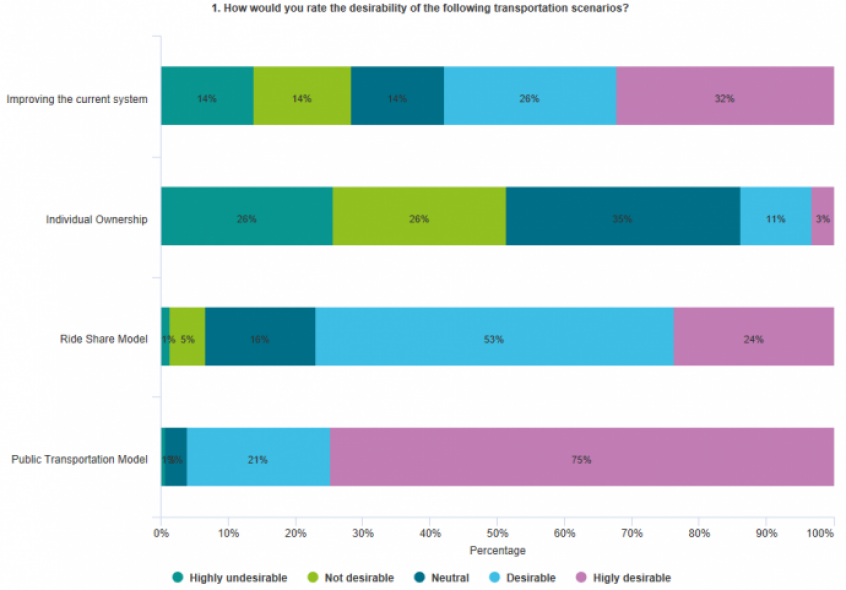 This resulted in wishes for action/recommendations to politicians and industry. It becomes clear that the desire for participation is strong. The participants want to be heard and involved, their interests and the social effects of change must not be ignored. The demand for the expansion and promotion of public transport was also clear. Many would like to see a stronger focus on environmental protection and sustainability, especially the industry is expected to act responsibly towards the environment and citizens, also with regard to data protection and security. Until autumn 2019, the results will be further evaluated and finally put in connection with the international results. Impressions and opinions of the Austrian participants can be seen on our Youtube channel: https://bit.ly/2HKP3OK