Anyone can shape the mobility of the future!
The core of the project is the mobility app MELINDA: depending on the priority entered, routes can be selected according to health, environment, time or cost savings. Anyone can go from being a passive "mobility consumer" to becoming an active co-designer. Because the mobility of the future must not only be affordable and safe, but environmentally friendly. With the help of the app, voluntarily provided individual mobility data is collected in order to promote the development of traffic and mobility innovations. The collected mobility data can be used as an information basis for political and social decision-making processes, thereby making the effects of our mobility behaviour visible in society.
Download the app now!
In the "user profile" of the app, the mobility preferences of the users are set. These preferences are taken into account in the ranking of the routing alternatives. With the function "Record Path" all mobility movements of the users are recorded and made available for individual verification. Only after a voluntary release of the recorded path, the data is transferred to a server and gathered for collective analysis and evaluation and included in the personal evaluation statistics.
The app offers classic functions such as route planning and the search for special "points of interest" (e.g. e-charging stations). In addition, it contains further functions, such as user awards for achieving set goals (e.g. 5 km run per day) and health aspects (calorie consumption, CO2 savings, etc. cumulated over the day, week, month and year).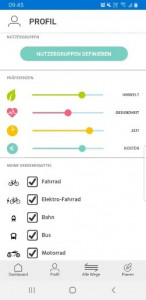 Environmentally conscious travel throughout Europe
MELINDA stands for Mobility Ecosystem for Low-carbon and INnovative moDal shift in the Alps. Pilot sites have been installed in six regions of Europe, including Vorarlberg (AT), to analyse mobility behaviour on the one hand, but also to support regional and local initiatives for low-carbon mobility. With the help of an online dashboard, the collected data is processed and visualized in aggregated form. By 2021, recommendations for a suitable political framework and effective measures are to be developed.