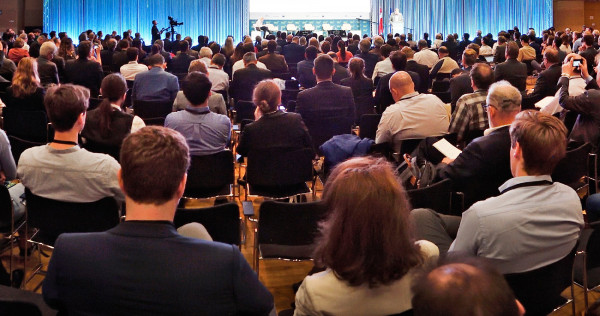 This year's ITS World Congress 2018 in Copenhagen will take place under the motto "Quality of Life". The world's largest conference on intelligent transport systems will focus on how intelligent and integrated mobility and transport solutions can positively improve the quality of life. AustriaTech also devotes itself to this topic and participates in the discourse on site and is also represented as an exhibitor under the umbrella of ITS Austria.
Living conditions are constantly changing, especially in urban areas. Between increasing traffic volumes and the demand for environmentally friendly, efficient and safe mobility, all relevant actors must act as mediators today. The term "Mobility as a Service" summarizes a number of concepts that addresses this challenge. Its basic concept demands to combine public, private and shared transport in a way that the transport needs of people and goods can be met by multimodal, integrated and digital mobility solutions. In the "LinkingDanube" project coordinated by AustriaTech, for example, a concept was developed that enables cross-border travel planning by linking several travel information services. By eliminating inconvenience and providing opportunities for seamless planning of the entire journey, consumers can start their journey in the best and most comfortable way for them. Since MaaS solutions cover several different modes of transport, they could possibly reduce the number of vehicles on the roads and help to reduce congestion and pollution in cities.
Such approaches contribute to an improvement in the overall traffic situation, not only in passenger mobility. In freight transport and logistics, the networking of road, air, rail and water transport to form a seamless logistics chain is equally important. The ERTICO project AEOLIX, in which AustriaTech is also involved, is currently working on a cloud-based logistics ecosystem that will act as a platform for the transparent sharing of information and data between various actors in the supply and transport chain.
Freight efficiency and MaaS solutions are two of the central themes of this year's ITS World Congress, which will take place from 17 to 21 September 2018. If you want to actively participate in the discussions, you can register here. We look forward to welcoming you at our joint stand (C2-062).
Some of the events on the subject of logistics:
ES08 Freight Efficiency
SIS80 Across the asphalt - Intelligent freight delivery over the last few metres
ES03 Requirements for the development of the Smart City
SIS70 Port of the future towards automation
SIS87 Ensuring a network for the exchange of logistics data
Sessions on the subject of MaaS:
PL02 Ensuring integrated mobility services
ES05 MaaS: Seamless and effortless mobility
ES02 Citizens at the heart of mobility services
SIS75 Dragon's Den - MaaS Performance Promise and the Future of Public Transport
AustriaTech presentations at the ITS World Congress 2018:
17/9:
SIS06 IBEC SESSION: ITS RESOURCES TO AID PRACTITIONERS AND DECISION-MAKERS, Monday September 17, 2018, 11:00-12:30 AM
NS0 CROSS BORDER MOBILITY SOLUTIONS: TOWARDS A SEAMLESS FUTURE. BY THE ITS NATIONALS, Monday 17 September 2018, 13:30-15:00
18/9:
SIS23 DEPLOYMENT OF AUTONOMOUS SHUTTLES ON PUBLIC ROADS - EXPERIENCES FROM FIVE DIFFERENT COUNTRIES, Tuesday 18 September 2018, 13:30-15:00
ITS Systems as data sources for Transport - and Spatial Planning Processes - the Austrian PT Service Level Indicator, Tuesday 18 September 2018, 13:30-15:00
SIS27 THE VALUE CHAINS OF (INTERACTIVE) TRAFFIC MANAGEMENT, Tuesday 18 September 2018, 13:30-15:00
SIS35 STRATEGY OF PRACTICAL IMPLEMENT OF V-I COOPERATIVE SYSTEMS FOR TRAFFIC ACCIDENT AVOIDANCE, Tuesday 18 September 2018, 17:15-18:45
19/9:
EU-TP1543 Linking of services: Fostering the shift towards flexible and seamless mobility in Europe, Wednesday 19 September 2018, 13:30-15:00
20/9:
SIS59 ROAD AUTHORITIES, OPERATORS AND OEMS AND CONNECTED, COOPERATIVE TRANSPORT, Thursday 20 September 2018, 09:00-10:30
SIS69 SYSTEMIC IMPACTS FROM INFRASTRUCTURE-BASED MANAGEMENT OF CONNECTED AND AUTOMATED DRIVING, Thursday 20 September 2018, 11:00-12:30
TN 2.0 (PART 2 - BRAINSTORMING): TN 2.0 AND HYBRID INFRASTRUCTURE AS ENABLERS FOR MAAS IN THE CONTEXT OF AUTOMATED TRANSPORT, Thursday 20 September 2018, 13:30-15:00
SIS74 EUROPEAN COOPERATIVE, CONNECTED AND AUTOMATED MOBILITY (CCAM), Thursday 20 September 2018, 13:30-15:00
SIS88 C-ITS DEPLOYMENT BECOMING REALITY IN EUROPE BY 2019, Thursday 20 September 2018, 17:15–18:45
21/9:
SIS90 DEPLOYING C-ITS SERVICES AND LEARNING FROM EVALUATIONS, Friday 21 September 2018, 09:00–10:30
The complete programme is available here.