The motto of this year's ITS World Congress is "Experience Future Mobility Now". ITS Austria is once again represented with a partner stand to showcase its diverse activities and services. The following partners will welcome you on site at booth B5125: Federal Ministry for Climate Action, Environment, Energy, Mobility, Innovation and Technology, AIT Austrian Institute of Technology GmbH, ALP.Lab Gmbh, ASFINAG Maut Service GmbH, AustriaTech, Digitrans GmbH, iMobility GmbH und Salzburg Research Gmbh.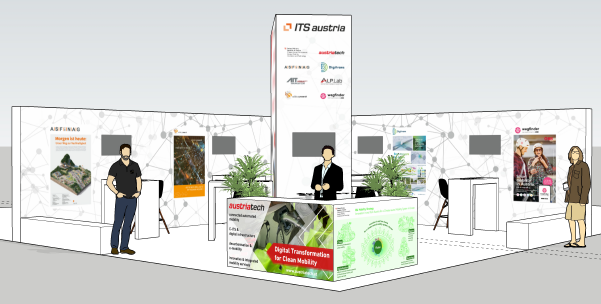 In addition to AustriaTech, the Austrian Institute of Technology is also represented with current research topics. The Ministry for Climate Protection is using the event to present the current RTI strategy in mobility and thus demonstrates the high value of innovations, which can be found in the ITS sector in particular. Karl Rehrl, Head of Mobility & Transport Analytics at Salzburg Research, says to the question of why they are participating in the event: "The ITS World Congress is the leading congress when it comes to intelligent mobility and the digitalisation of transport. After many months without events, Salzburg Research takes this special opportunity in Hamburg to present results from current research projects, strengthen new and existing networks and exchange ideas with key players in the mobility and transport industry." ASFINAG Maut Service GmbH also uses the event to exchange ideas with experts: "The ITSWC is the ideal place to exchange ideas with an international audience on current and future mobility topics. Stefanie Ringhofer, Marketing Manager at iMobility GmbH, is very pleased about the opportunity to present the wegfinder app at the congress: "We are looking forward to the international exchange with mobility experts from all over the world, especially to discuss trends and future scenarios of individual passenger transport. With our MaaS solutions for cities, companies and end customers, we are playing a key role in shaping smart mobility in Austria. The ITS World Congress offers an excellent opportunity to share our experiences and to present Austria's leading MaaS app "wegfinder". Eva Tatschl-Unterberger, CEO at DigiTrans GmbH, also expresses the relevance of participating in the congress: "DigiTrans is intensively involved in testing automated and sustainable freight transport solutions. For us, the ITS World Congress in Hamburg is one of the most important conferences in the field of smart and automated mobility and transport technologies. Above all, we hope to be able to present our knowledge, our projects and our test infrastructure for testing and validating automated driving functions in difficult weather conditions at the World Congress.
Activities of AustriaTech at the ITS World Congress
Our colleagues will also play an active role at the ITS World Congress. In addition, numerous projects in which AustriaTech is involved will be presented. These include for example: C-Roads Austria, DATA4PT, Dynaxibility4CE, ICT4CART, LinkingAlps, OJP4Danube und SerIoT.
10.2021, 02:00 pm: "SIS 20 Leveraging V2X Data to Create Sustainable Public-Private Partnerships", B6 - Room 3
10.2021, 11:00 am: Session "Mobility out of the Box: Climate Change – how much do we care?", CCH - Room X9
10.2021, 11:00 am: "SIS 31 How we overcome challenges to deploy sustainable L4 driverless mobility services", B6 - Room 7
10.2021, 01:00 pm: "ITS Architecture Materials and Tool" at ITS Austria booth, Messe - B5.125
10.2021, 02:00 pm: Dynaxiblity presentation at POLIS booth, Messe - B4.160
10.2021, 05:15 pm: "SIS 85 Mitigation of barriers for MaaS", B6 - Room 3
10.2021, 02:00 pm: ICT4Cart Final Event, CCH - Raum X1
We are looking forward to an eventful congress and are looking forward to welcoming you at the Austrian joint booth B5.125.