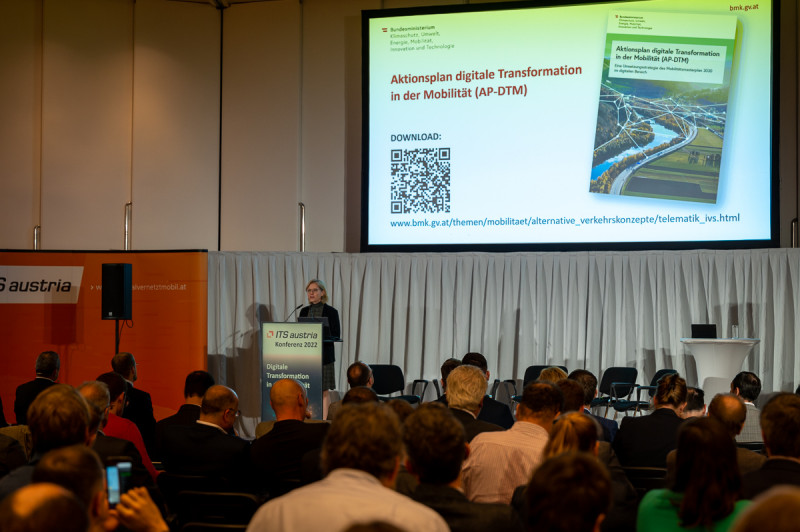 Everything new... was the ITS Austria conference creating this year! Minister Gewessler presented the brand new Actionplan for the Digital Transformation in the Mobility Sector in Austria. This Actionplan is based on the Mobility Masterplan 2030 and aims to promote digitalisation in mobility in a coordinated manner in order to support climate change. Around 130 experts participated in the preparation and development of the Actionplan in four ITS Austria working groups. In her opening statement, Minister Leonore Gewessler emphasised how important it is to develop the value of digitalisation jointly and that the result is always a visible reduction in CO2 emissions. The Actionplan is also an essential vehicle to show where cooperation is necessary. The fact that things are really getting underway now is also underlined by the various calls for proposals that were opened on this topic on 4 November 2022.
Cooperation called for at various levels
The topics of cooperation and exchange also dominated the panel discussion held by Minister Leonore Gewessler with Jutta Rinner – Linz AG, Johann Pluy – ÖBB-Infrastruktur AG and Josef Fiala – ASFINAG AG.
Minister Gewessler once again pointed out that digital transformation is already happening - but if we actively shape it, we can achieve our goals more quickly and efficiently. Jutta Rinner also sees the potential in cooperation and the task of Linzer Linien in acting as integrator and networker to enable additional mobility services.
Another aspect that Josef Fiala affirms is the success that Austria can already demonstrate at the national level - for example in the C-ITS sector. It is essential to start with concrete things promptly and then work forward piece by piece instead of addressing everything at once. Johann Pluy addresses the topic of data management, which is also reflected in the action plan. Only through an adapted, digital design of work, processes can continue to move mobility transformation forward. Building up the corresponding competencies will affect all companies and sectors.
Measures of the action plan are not just small topics
In addition to the great task, all participants also see the great potential that lies in digital transformation. This requires clear structures in order to keep the goal and the associated benefit for the environment and people in mind. After years of testing and piloting, many also see the need to continue working on implementation. The first approaches are already being realised, especially at the interfaces between individual and public transport. Along with this, new digital financing models must be considered. Therefore, the topic of the digital check and adaptation of legal provisions is also addressed in the action plan with five measures.
For the first time, we had the pleasure of welcoming three international representatives: Herald Ruijters, European Commission, Deputy Director-General DG MOVE, Roland Goetzke, Federal Ministry for Digital and Transport Germany and Gery Balmer, Federal Office of Transport Switzerland contributed their views and experiences on the digital transformation in mobility. Important topics for the EU are road safety and the availability of data. Ruijters also emphasised Austria's good work in the area of C-ITS. It is important to make available data that can contribute to increasing road safety. After all, around 20,000 people still die in road traffic in Europe every year. It is important to create the necessary framework conditions for digitalisation and data use to work together.
Roland Goetzke brings a successful example of a new national access point to mobility data from Germany. With an appropriate data infrastructure, data providers and those who want to use the data intelligently can be brought closer together. This helps smaller authorities or municipalities in particular.
Digitisation is also an "enormous topic" in Switzerland, as Gery Balmer reports. The existing offers must be linked with each other in order to be able to meet the needs of the users. The role of the public sector must also be rethought. And incentives must be created so that companies make their data available.
Leading by example
Various national examples show where we are today and which opportunities are already being used. In total, six projects and activities were presented in more detail at the conference:
Markus Schlapfer, ÖBB-Infrastruktur AG, reported on adaptive train control and the various levels of automation associated with it. The interaction between vehicles and infrastructure must be rethought. However, safety and functionality must always be intertwined.
Bernd Datler, ASFINAG Maut Service GmbH, highlighted the role of integrated traffic management and how intelligence can be brought onto the road. Real-time traffic data is essential and for this reason, a nationwide exchange was created via EVIS.at.
Martin Demel, Wiener Linien, presented the WienMobil Hüpfer, an on-demand ridesharing service in Liesing, one of Vienna's districts. Wheelchair-accessible and electrically powered vehicles are used to secure inclusive mobility.
David Geroe, ITS Vienna Region, presented three examples of innovative applications based on GIP. Specifically, various application examples for innovative digital cycling infrastructure are shown in GIP4Radrouting.at.
Wolfgang Schildorfer, FH Oberösterreich - Logistikum, addressed the digital twin in the area of road traffic in several projects. One focus was on C-ITS in urban areas with a focus on specific scenarios and how to implement measures via C-ITS. For example, the DIGEST project addresses so-called Vulnerable Road Users (VRUs), and the AWARD project deals with automated logistics transport in public spaces (local areas) in adverse weather conditions.
Kalojan Daskalow, AustriaTech GmbH, presented a possible key for interoperable data access in Europe with the NAPCORE project. The goals of this large-scale EU project are to create a coordination process for the harmonisation of all European National Access Points and National Agencies and to harmonise data across the EU for easier use.
Everyone agrees on one thing: the Digital Transformation Action Plan for Mobility will be a success if a reduction in CO2 emissions can be measured and the measures reach the customers!