Within the project SHOW the use of electrified, connected and automated fleets in passenger transport and logistics will be tested in (peri-)urban areas in Europe. This should optimise fleets for regular operations and enable new business models. The focus is on the integration of automated vehicles in public transport fleets (including shuttles) as well as public transport platforms (e.g. MaaS) and integrable logistics use cases. The overall goal is to minimize traffic emissions (CO2, noise) by using new vehicle and mobility relevant technologies in the mobility sector.
In different pilot regions concrete pilot schemes for the use of automated vehicles with varying transport capacities in regular operation will be implemented. These projects will be scientifically monitored and validated with regard to their scalability and transferability to other cities and regions.
Another essential aspect of the project is to raise awareness among the population and to build a common understanding of networked and automated mobility with regard to the need for standardisation and certification.
SHOW involves 69 project partners from 13 EU countries.
Get in touch with SHOW: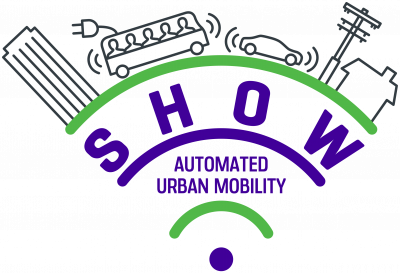 This project has received funding from the European Union's Horizon 2020 research and innovation programme under grant agreement No. 875530.