The name of this platform is program. "Umadum", as a Tyrolean dialect word, can be translated as "around". With this platform, the Tyrolean startup ummadum Service GmbH has created a car-sharing exchange that rewards joint driving with coupons for local retail stores.
"The combination of trade and mobility creates an incentive and leads to an adaptation of people's behaviour".
- Julia Medina Traxler, ummadum
How does it work?
Users can share their ride or look for a lift. Points are needed to share a ride, which you can either earn by offering your own rides or by buying them in the app. Drivers get points for each kilometre of the shared journey. Points collected can then be redeemed as vouchers at all partners. In addition to private users, municipalities and companies can also participate as users by distributing carpooling points to the population or their employees, thus encouraging them to drive together.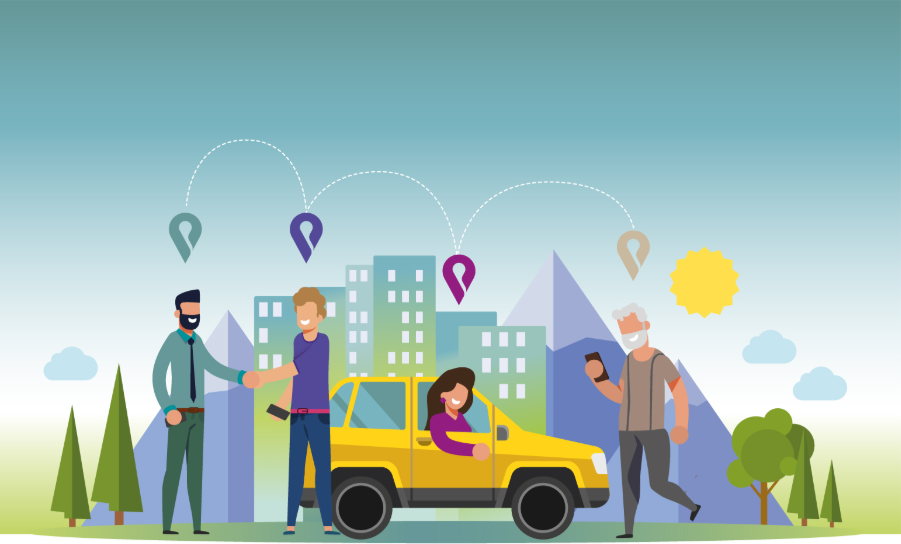 Who's involved?
The partners with whom the points can be redeemed are located in Wattens and Schwaz, new ones are constantly being added. Currently these are Metzgerei Strasser, Sport Erler, MPreis, Baguette, the office of WSG Swarovski Tirol, Museum Wattens, Schatzkammer Silberregion-Shop, Bauernmarkt Siegismund & Müller OG, EZEB, Tischkultur Orgler, Verein Wams and unbound.
What are the positive effects?
By driving together, users save costs. As with Carployee, shared journeys increase the occupancy rate, which reduces traffic. The platform therefore has an effective benefit for the environment. In addition, the points system promotes local and regional small businesses. Social interaction is strengthened, companies can increase their attractiveness and municipalities can relieve the local transport infrastructure.
As a prize for the victory, ummadum was invited to Singapore together with the other Challenge winners to present their concept there.