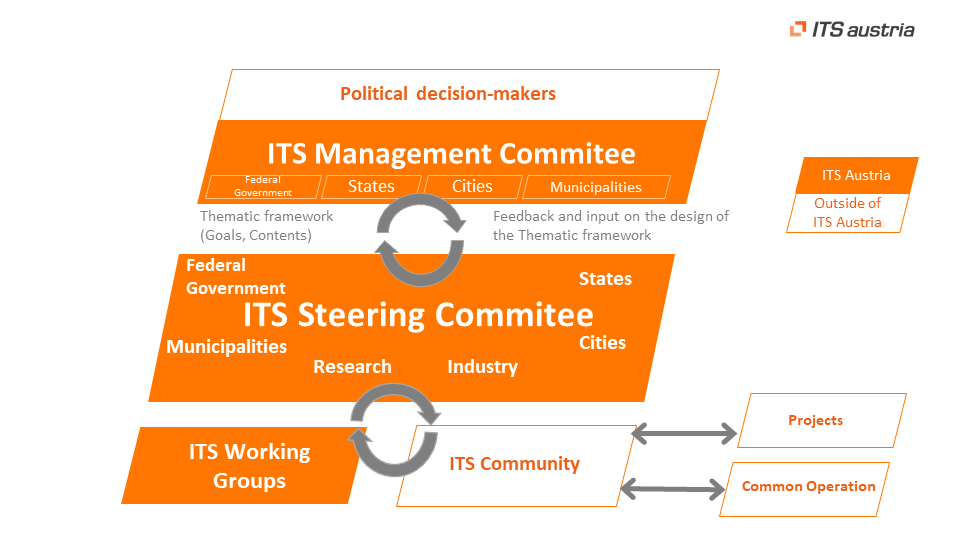 The ITS Management Committee is composed of representatives of the federal states, cities, municipalities and the Federal Ministry of Transport, Innovation and Technology (BMK) and contributes their positions on ITS to ITS Austria. The ITS Steering Committee is the formative body of ITS Austria, which is composed of representatives of the operators, the public sector and research institutions.
ITS Management Committee
The ITS Management Committee advises on proposals from the ITS Steering Committee on the thematic framework, ITS goals and work programmes. A clear focus is on the implementation of the ITS goals and strategies as well as their operationalisation. The ITS Management Committee serves to balance the interests of the actors in public administration. Regional, national and international developments are taken into account in order to develop impact-oriented objectives for the digital transformation in mobility for Austria and to accompany their implementation.
ITS Steering Committee
Within the framework of this committee, proposals and prioritisations for the thematic framework are developed and coordinated with the ITS Management Committee. The ITS Steering Committee deals with the proposed objectives and activities and decides on their realisation and prioritisation within the framework of ITS Austria. Additional focal points can be defined and worked on by the ITS Steering Committee. If necessary, ITS working groups with a clear mandate are established. Requirements are reported back to the ITS Steering Committee in order to incorporate them into the thematic framework accordingly. The ITS Steering Committee monitors the implementation of measures within ITS Austria and ensures their effectiveness. It is responsible for the external visibility of ITS Austria. The focus is on defining annual communication priorities and events, the ITS Austria Annual Conference, workshops and webinars with partners.
The ITS working groups form joint content-related activities in ITS Austria. They are convened by the ITS Steering Committee with a clear mandate and are composed of different actors from ITS Austria itself and from the ITS community. The results of the ITS working groups enter into the meetings of the ITS Steering Committee.
ITS Community
The ITS community is located outside the ITS Austria structures but is jointly responsible for the implementation of projects and pilots, also in the field of research. The members of the ITS Community act as multipliers by disseminating information and contents of ITS Austria in their organisations, clusters and personal representations and by supporting their processing and implementation in accordance with the various areas of expertise.
The ITS community is composed of mobility actors and cross-sectoral organisations (e.g. IT service providers, energy suppliers, automotive). AustriaTech supports the organisation and operation of ITS Austria and forms the secretariat of ITS Austria. The management of AustriaTech assumes the role of Secretary General.